---
Sub senior
Posts: 106
Joined: Thu Aug 09, 2007 9:48 pm
My Rig: Mesa Dual Rectifier and Rectifier Quad
Line 6 Spider4 2x12
ESP Eclipse CTM Vintage White x 2
ESP Michael Amott Ninja White
ESP EXP Black
ESP M2 White
ESP Truckster
ESP Eclipse CTM PL
EMG Pickups
Gibson 92' Les Paul Custom Vintage Sunburst
Takamine 12 String Acoustic
Boss & MXR Pedals
Location: parkville
heres a bit of a close up on the inlay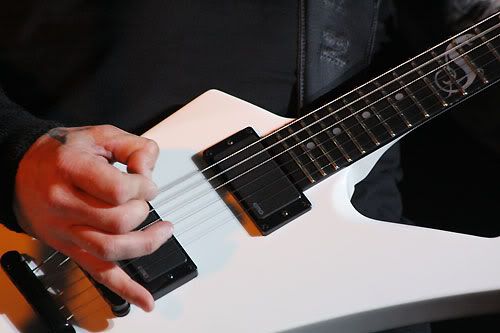 ---
Thanks for the closeup.
Something strange about that inlay... Reminds me of a seahorse.
---
Yo' daddy
Posts: 1548
Joined: Mon Apr 07, 2008 5:03 pm
My Rig: ESP Cygnus
Location: Wollongong, NSW
What is that anyway? At first I thought it was a salamander or some sort. And now it's starting to look like the logo for the Alien movies
Call me Indra
DELUHI 20/11/10
DELUHI 27/07/11
Leda 17/09/12
UNDIVIDE 20/10/12
UNDIVIDE 26/10/12
The best days of my life!
---
Judge, Jury and Executioner
Posts: 3000
Joined: Sun Jul 20, 2008 4:42 pm
My Rig: Jet City JCA100HDM Head
Jet City JC212 cab
ESP OS Forest GT
80's Lawsuit LP
Schecter Demon 7FR
Dunlop KH95 Wah
Boss CH-1 Super Chorus
Good Transactions
Fikealox
rmartin04
shockme.au
Location: Mackay, The Heart of Queensland
Contact:
Hammett must have had a word in the design of the Explorer if its the symbol from the Aliens movie
s_m_g wrote:Can someone translate this thread to guitar so I can understand what the hell you're all talking about?

I had Octoban once, it was kind of like calamari but a bit chewier.
---
Starscreamer
Posts: 276
Joined: Wed Oct 24, 2007 8:12 am
My Rig: Fender USA Standard Strat
Washburn WM526 Voodoo with BKP Nailbomb & Dimarzio Liquifire
ESP MV240/R - BKP Warpig & Dimarzio Air Norton S, FU Brass Block, noiseless springs and Tremol-No.

Strymon, Providence, Peterson, MXR, Lightfoot Labs, Dunlop, Ernie Ball, Wampler and ISP Pedals

VHT Sig X
Mesa Recto 2x12
Location: Aberdeen, Scotland
Contact:
Oh god, is this the end of Hetfields run with ESP? I turn your attention to the Dave Mustaine AXXION. Urgh.
OmegaF wrote:crying babies in airplanes. put the little fucker in the cargo bay along with luggages and pets or shut its fucking mouth.
Troy Destroy wrote:Women. They are fucked. Ever last one of them is bat shit crazy.
Fikealox wrote:Wow, caught between a cock and a gay place.
healthofmind@hotmail.com
---