The end of 2013 is nigh, and Christmas is nearly upon us once again. As such, it is customary for me, and my great pleasure, to put pen to paper. In this case, however, I'll be composing this Christmas message for the first time without pen and paper. At the age of 41 I think I have now unlocked the achievement of being able to type AND think at the same time, rather than write old school then punch it into what I used to know as a "word processor!" So here goes, let's see if I truly am worthy of levelling up.
I'm not sure for how many years I've been putting together my Christmas message. It started as a post at the bmusic forum but has now grown to also be shared with our friends on social media, and beyond. So there are a great many of you to thank, some reading for the first time through to those who have read every year since the first. I'm thankful for those who do digest these messages and for the opportunity to express my gratitude and appreciation, and to muse more broadly on the year past.
It's been an interesting year, as they all are, with the sands of this industry and almost every other constantly shifting. We've been through an election year in Australia that had more victims than it had victors. Whether our country made the right decision or not will be for future historians to decide, but hopefully forward we will move after stagnation in the corridors of power for much of the year. The political landscape in the shadow of social media and the
24 hour news cycle is not one for the faint of heart, and as observers the debate can get fairly intense. Now the dust has settled we can all hopefully at least agree that the right to decide who governs our country democratically is something we should celebrate, and celebrate our country as others celebrate theirs - with pride.
Whilst our industry may have seen some regrettable store closures and distributors seeking out their sales in non-traditional methods which has caused some consternation amongst those who have traditional stores that continue on, there's fewer industries suffering more than the manufacturing industry in Australia. Holden's Elizabeth assembly plant is 15 minutes from us at bmusic, I have grown up with literally hundreds or men and women who have worked there at
one time or another, and many continue to work there, until 2017. I have a significant amount of customers who are still employed at Holdens, and have talked with many of them for years now about the future of their industry. I sense they were broken and resigned for some time to the outcome we've seen unfold recently. I wish them all well and see a stoicism in them that I'm confident will guide them on their journey beyond General Motors ultimately departing Australia a few short years from now.
We've witnessed many job losses this year amongst our customers and friends, but we've also seen new careers undertaken. We have shared in the birth of children, the passing of loved ones, the beginnings of new lives either as school kids became school leavers or turmoil of one kind or another sent some of our friends and customers on different life paths. Some have moved states, some countries. Many have embarked upon a new life with a new partner, or married and begun their new lives together as one. Indeed, this very evening, one of our oldest bmusic friends has become engaged to his lady. Some have toured the country or the world in their bands, bands we've often had the tremendous privilege of seeing grow from their very first shows. One in particular has been across Australia as part of the Soundwave festival, to Europe, Russia, Indonesia, the US, Canada, heading out on the Big Day Out next month, then back to the US and Europe again after that. That same band I saw in a regional town hall with about 200 sweaty kids bouncing around in January of the same year all this has taken place. Some truly remarkable achievements have been made by our bmusic friends.
I have long respected the networks that have been created by musicians throughout the world that have allowed them to tour to so many places that just a few short years ago would have been next to impossible to do without breaking the band members finances and spirits. (It still breaks their bank accounts, but there's a whole lot more comraderie and assistance that helps the spirit part from what I can see).
I marvel each year at just how much I get to experience of so many lives via the connections that this lil' old store affords me. Is it because of our art that we ultimately find ourselves sharing what we share with likeminded individuals? Pursuing the art we all have in common is the pursuit of something I suppose is ultimately extroverted, but the music does the talking for us. Do we understand each other and communicate differently with those who share our inextinguishable passion for the art of music, no matter the form? Whatever it is, it's identifiable in most every musician and I thank all of you who have and continue to share your lives with me in some way.
Each year I receive an amazing amount of CDs from our customers and friends, proudly presenting their hard work and dedication and I'm honoured to be amongst those with whom you choose to share it. There has been a wealth of amazing music being produced by Australian bands, and it's earning kudos in many quarters. I have been following closely a number of "Best Of 2013" lists over the past few weeks and I'm thrilled at how many artists that are featured in those lists that we have a professional and, more often than not, personal friendship with. Their successes and accolades are all well deserved and my wish is for more of the same for them and all artists that put in so much work, money, emotion, and everything else it takes to make music work.
Then there are those of us who now make music purely for the sake of making music and little else. May music continue to deliver to you the personal rewards, relaxation, departure from the every day, or the myriad other effects this most amazing of crafts is capable of in 2014 and beyond. I sell instruments every day to people from young children to retired adults who are just starting their journey in learning music, and my hope is all of them discover what most of you reading this have. There's nothing quite like it, and it lasts a lifetime. I hope those who have "day jobs" (and that includes me, you'd be surprised how little guitar a guy running a guitar shop gets to play) get the opportunity to spend some time just playing over the forthcoming break, without distraction, if only for a short while.
Those are some of the rewards afforded me as the owner of this little music store. The other is the support financially and your support in referrals and participation with bmusic online and in-store. That people choose to share with us their hard earned income is never lost on me. All these things combined allow me to support my family as a husband and father. I've been composing these Christmas messages since before my children were born, and many of you have borne witness to their arrivals into this world (not literally!) The store is our life, and your support literally puts a roof over our heads and food on our table. bmusic and Dad running the store is all my children have known and they too know and respect the importance of the support all of you have given us. This was Layne as a baby, 8 years ago, playing his part back then.
I thank you all, as earnestly as I can, for your support and wish each and every one of you a wonderful and safe Festive Season. I am humbled that you choose to be a part of the bmusic story. And to Mark, the man who has assisted me for a good many years now, who tackles and nails the toughest of repair jobs and has performed his legendary setups on thousands of guitars. Thank you, my old friend, for all that you do.
I managed to get to the beach once this year, with the family. I hope I get to do it again soon. Your custom and any support you have given to bmusic goes to these guys, I hope one day they too can thank you as humbly as I do. Both will be at school for the first time in 2014, it all changes again.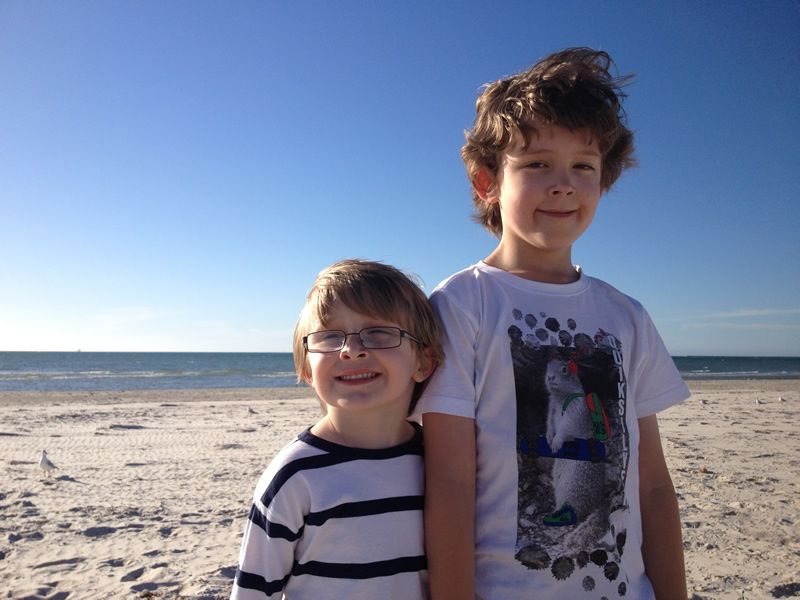 May the year ahead be full of all the things you wish for. Be safe, be well, be merry, reflect, plan ahead, love and be loved, share and care, shoulder the bumps, ride the waves, and through it all, keep making music! See you all in 2014.